Free! Download the Exclusive Star Wars Short Story Collection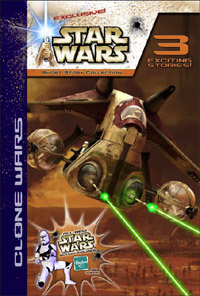 Want to read some great Star Wars fiction?
Didn't get to all the conventions this summer?
Want to leave your hailfire droid mint-in-box?
So you purchased that rugged new Clone Wars hailfire droid from Hasbro, and you really want to leave it in the box. You know, however, that the limited-edition Star Wars: Short Story Collection, featuring new tales by Jude Watson, Matthew Stover, and Timothy Zahn, is packaged inside.
It's driving you crazy.
What to do? You could purchase another Hailfire Droid, take it out of the box, and have fun playing with it and reading the Short Story Collection. It's a good plan, but you really want to spend your Star Wars toy allowance on the new Hasbro Unleashed figures for fall, in particular that stunning Han Solo.
Scholastic, Del Rey, Hasbro, and the Official Star Wars Fan Club have your answer: download Star Wars: Short Story Collection from their websites FREE!
Download here, or go to http://www.delreydigital.com/starwars, http://www.scholastic.com/titles/starwars/special.htm, http://starwars.hasbro.com/, or http://www.starwars.com/.