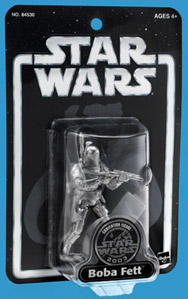 Paizo Publishing LLC and the Official Star Wars Fan Club are pleased to announce that there is a limited quantity of non-mint 2003 Convention Silver Boba Fett action figures available for sale at 20 percent below their original price. These figures are deemed "non-mint" due to packaging defects, and are perfect for those who want to open and display a Silver Fett.
"Since we started selling these figures last year at conventions and through our website, we have been culling those that didn't meet our collectible-quality condition requirements," said Vic Wertz, director of product development for the Fan Club. "We wanted to make these non-mint figures available not only to fans who want to take their Silver Fett out of the package, but to those who missed their first opportunity to own one of these Star Wars collectibles."
The non-mint 2003 Convention Silver Boba Fett action figures will be offered on a first-come, first-served basis to Star Wars fans by going to http://paizo.com/silverfett.
Items described as "non-mint" have some packaging defects. The term "non-mint" applies only to the packaging–the item inside the package will be in similar condition to items sold without the non-mint designation. Items sold as non-mint will not be returnable. The non-mint action figures sell for $8.00 each (plus shipping charges). Orders are limited to two figures per person due to the small number available.
Remember that there is only a very limited quantity of these figures. Once they are gone, no more orders will be processed. Those with questions about the figure or the ordering process can email customer.service@paizo.com.