Limited Number of Non-Mint 2003 Convention Silver Boba Fett Figures Now Available!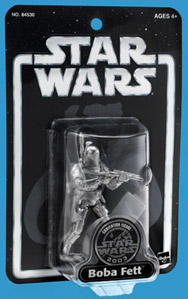 Paizo Publishing LLC and the Official Star Wars Fan Club are pleased to announce that there is a limited quantity of non-mint 2003 Convention Silver Boba Fett action figures available for sale at 20 percent below their original price. These figures are deemed "non-mint" due to packaging defects, and are perfect for those who want to open and display a Silver Fett.
"Since we started selling these figures last year at conventions and through our website, we have been culling those that didn't meet our collectible-quality condition requirements," said Vic Wertz, director of product development for the Fan Club. "We wanted to make these non-mint figures available not only to fans who want to take their Silver Fett out of the package, but to those who missed their first opportunity to own one of these Star Wars collectibles."
The non-mint 2003 Convention Silver Boba Fett action figures will be offered on a first-come, first-served basis to Star Wars fans by going to http://paizo.com/silverfett.
Items described as "non-mint" have some packaging defects. The term "non-mint" applies only to the packaging–the item inside the package will be in similar condition to items sold without the non-mint designation. Items sold as non-mint will not be returnable. The non-mint action figures sell for $8.00 each (plus shipping charges). Orders are limited to two figures per person due to the small number available.
Remember that there is only a very limited quantity of these figures. Once they are gone, no more orders will be processed. Those with questions about the figure or the ordering process can email customer.service@paizo.com.
---
Paizo Publishing™ LLC is the publisher of Undefeated® magazine, the complete competitive-game strategy magazine. The company publishes DRAGON®, DUNGEON®, and POLYHEDRON® magazines under license from Wizards of the Coast, Inc. Paizo directs the Official Star Wars Fan Club™ and publishes Star Wars Insider™ magazine and the Bantha Tracks newsletter under license from Lucasfilm, Ltd. Headed by fans for fans, Paizo looks to add new aspects of fun and innovation to the industry, while maintaining and improving on their high quality standards of excellence in content.
Lucasfilm Ltd. is one of the world's leading film and entertainment companies. Founded by George Lucas in 1971, it is a privately held, fully integrated entertainment company. In addition to its motion picture and television production operations, the company's global businesses include Industrial Light & Magic and Skywalker Sound; LucasArts Entertainment; Lucas Licensing and Lucas Online. Lucasfilm's feature films have won 19 Oscars, and its television projects have won 12 Emmy Awards.
Star Wars © 2004 Lucasfilm Ltd. & ® or ™ where indicated. All rights reserved. Used under authorization.