Dinner with the Star Wars Stars in Seattle
Elegant Evening Planned for Star Wars Fan Club Members and Guests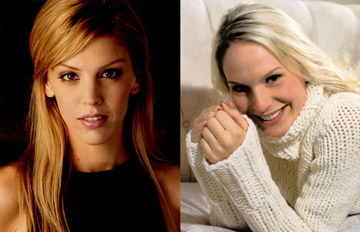 Members of the Official Star Wars Fan Club are invited to an extra special evening out with the stars in downtown Seattle February 28. Members and their guests will enjoy an elegant dinner overlooking the city in the Sound View room of the Seattle Hilton, and meet two lovely stars from the Star Wars films, Michonne Bourriague and Amy Allen.
All who attend this very special evening not only will meet Bourriague and Allen, they also will receive an autograph from each, a one-of-a-kind photo of the stars created just for this event, a souvenir ticket, and a distinctive collection of Star Wars keepsakes. Lisa Stevens, President of the Fan Club, will be in attendance to meet with fans and chat about the Club. Dave Gross, Editor-in-Chief of Insider, and Vic Wertz, Associate Editor of Insider, will also be there.
Seating for this intimate evening is very limited, and tickets are expected to sell out quickly. Members of the Fan Club can sign up at http://paizo.com/fandinner. Each member may purchase a ticket for one guest, who does not have to be a member of the Club.
The Hilton is planning a festive and elaborate buffet for the evening. There will be a cash bar, and non-alcoholic beverages will be included with dinner.
The striking bounty hunter Aurra Sing made a brief appearance on screen in The Phantom Menace, but made a lasting impression with Star Wars fans everywhere. Bourriague was cast to play the role, and her character has since been spotted everywhere from comics and books to action figures. Bourriague's Star Wars character was also featured in one of the exceptional Star Wars Masterpiece Edition volumes, which included a book about bounty hunters and a 12-inch action figure of Sing. Allen, who worked at Industrial Light & Magic during the making of Attack of the Clones, was recruited to play the part of the blue-skinned Twi'lek Jedi in the film. Director George Lucas requested that a physically fit female extra be found for the film after he saw Jon Foster's striking cover art of a blue Twi'lek Jedi on a Dark Horse comic. Allen's character, like Bourriague's has been spotted everywhere from publications to toys.
The Fan Club Dinner with the Stars in Seattle is produced by the Official Star Wars Fan Club. Admission to the dinner is $94.95 per person while seats are available, and includes an elegant, exclusive dinner in the Sound View room of the Seattle Hilton, an autograph from Bourriague and Allen, a one-of-a-kind photo of the actresses' Star Wars film characters, a souvenir ticket, a Fan Club-exclusive Holiday Yoda action figure, a collection of Star Wars keepsakes, and the opportunity to meet and chat with Lisa Stevens and your fellow Star Wars fans.
Don't miss the fun! Register now!
Saturday, February 28, 2004
7:30 – 9:00 PM
Will call will open at 7:00 PM
Seattle Hilton Hotel
1301 6th Avenue, Seattle, WA 98101
In the heart of downtown Seattle
The Official Star Wars Fan Club Dinner with the Stars in Seattle will take place the evening before the Emerald City ComiCon at Seahawks Stadium.
---
Paizo Publishing™ LLC is the publisher of Undefeated® magazine, the complete competitive game strategy magazine. The company publishes DRAGON®, DUNGEON®, and POLYHEDRON® magazines under license from Wizards of the Coast, Inc. Paizo directs the Official Star Wars Fan Club™ and publishes Star Wars Insider™ magazine and the Bantha Tracks newsletter under license from Lucasfilm, Ltd. Headed by fans for fans, Paizo looks to add new aspects of fun and innovation to the industry, while maintaining and improving on their high quality standards of excellence in content.
Lucasfilm Ltd. is one of the world's leading film and entertainment companies. Founded by George Lucas in 1971, it is a privately held, fully integrated entertainment company. In addition to its motion picture and television production operations, the company's global businesses include Industrial Light & Magic and Skywalker Sound; LucasArts Entertainment; Lucas Licensing and Lucas Online. Lucasfilm's feature films have won 19 Oscars and its television projects have won 12 Emmy Awards.
Star Wars © 2004 Lucasfilm Ltd. & ® or ™ where indicated. All rights reserved. Used under authorization.