It's Savannah again. The prodigal intern from last summer returns... for Spring Break anyhow. It's been an accidental intern reunion here at Paizo, as my predecessor Jerome is helping out in the warehouse this week. Personally, I think I've got the better end of the deal, since I get to tell you all about some of our upcoming products and how exciting they're looking. So, from the depths of the Editorial Pit and my appropriated computer comes an intern's-eye view (when that view isn't "hiding on pallets from the cave raptors.")
Do you want the power to challenge the gods themselves? Then Mythic Adventures is the book for you! This is the perfect resource to help you take our game up a notch, and give your characters the power to challenge the gods themselves. Mythic Adventures allows you to take up new mythic magic items, artifacts, and legendary items, utilize news feats and spells, and walk one of six mythic paths. However, with mythic heroes also come mythic foes, and this book has over 40 of them, including mythic versions of the minotaur and the medusa!
Next up is the Pathfinder Campaign Setting: Demons Revisited. This book showcases some of Pathfinder's most vicious and well-known demons and provides in-depth information, such as what sins they arise from. The balor, the succubus, and the vrock are among the demons mentioned here, but Demons Revisited doesn't stop there! There are a list of named demons, some of them from previous Pathfinder products, and some of them brand new, but each of them unique in their own horrendously cruel ways. This can help to add some spice to the conjurations of your villains (or your PCs) and nothing says "personal" quite like a named summons. As an added bonus, this book ties in with the upcoming Wrath of the Righteous Adventure Path!
Speaking of Wrath of the Righteous, The Worldwound Incursion is also up for August. One of the most exciting aspects of this Adventure Path is that it is the first to utilize the rules of Mythic Adventures, making it a truly epic adventure! On top of that, there will be six demon lords featured in Wrath of the Righteous, and the first of them will be in The Worldwound Incursion's bestiary.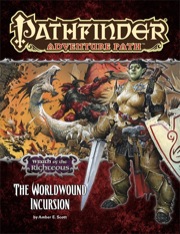 Continuing our demonic theme is Pathfinder Player Companion: Demon Hunter's Handbook. This book explains exactly how to eradicate or control demonkind through might or magic. To help, there are all sorts of archetypes, feats, spells, and magic items to give you just what you need to take care of the vilest of demons and purge them from the land (or take their power for yourself...). Don't travel to the Abyss without one!
For the fans of steampunk out there comes Wardens of the Reborn Forge by Paizo's own Patrick Renie. This module takes place in the Grand Duchy of Alkenstar, which has withstood the ravages of the Mana Wastes thanks to the amazing inventions of its citizenry. When the clockwork guardians start attacking the townspeople, though, the power balance of the city is thrown into disarray. Can our heroes discover the cause behind these attacks and save Alkenstar from itself?
In case you were wondering about what you were going play some of these awesome adventures on, you can look no further than the Pathfinder Map Pack: Evil Ruins for all of your creepy, dungeon-crawling needs! From spider haunts to profane altars to overflowing ossuaries, this map pack brings all the horror and dark ambiance of unhallowed ruins to your game.
If frightening ruins aren't what your game calls for, then the Flip-Mat: Basic Terrain Multi-Pack might be just what you need. Its full-color textures include grassland, stone floor, street, and water. It also folds up to be travel sized, making it great for the GM on the go.
If you haven't had enough of demons yet, then I'd suggest that you check out the new Pathfinder Tales novel from fan-favorite (and intern-favorite) author Dave Gross: King of Chaos. This is another adventure featuring Count Varian Jeggare and his wisecracking hellspawn bodyguard, Radovan. This time they find themselves mixed up in the battle at the Worldwound as the demons break free of the wardstones. In addition to being an excellent book with interesting characters, King of Chaos is also a great resource for those who are running or playing Wrath of the Righteous.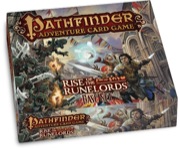 To round out our Worldwound-themed August comes a new set of Pathfinder Item Cards. These cards represent the trove of treasure that characters can amass, as well as the medals that heroes can earn in their service against the demon hordes and the legendary artifacts that they will need to defeat the Abyssal armies.
From Paizo's collaboration with Lone Shark Games comes an entirely new breed of game: The Pathfinder Adventure Card Game: Rise of the Runelords Base Set. This is a cooperative card game for one to four players. Choose a class and select your cards to create a unique character to play through your first adventure, the Burnt Offerings Adventure Deck. If you want even more card game goodness, then check out the Rise of the Runelords Character Add-On Deck, which adds on 110 cards worth of new classes (including druid, monk, paladin, and my favorite, barbarian), new items, and enough cards to expand to five or six players.
All right, well that's a wrap. Let's hope that writing this was a good enough offering that I don't get thrown to the cave raptors. Hope you enjoy all the new products!
Savannah Broadway
Editorial Intern