Ever since we introduced the little buggers way back in Pathfinder Adventure Path #1, the lowly goblin has become a sort of mascot for the Pathfinder Roleplaying Game. With several new attributes like hatred of dogs, fear of horses, and a delightful penchant for singing (and a fresh new visual design from superstar artist Wayne Reynolds), Pathfinder goblins are a great symbol of what we're trying to accomplish with Pathfinder in general—providing new and exciting spins on classic elements of fantasy and sword & sorcery.
As far as Pathfinder goes, it doesn't get much more classic than goblins. Since their first appearance, we've introduced ways to play goblin player characters, stuffed goblins, goblin t-shirts, and more.
We've also produced several goblin miniatures for the Pathfinder Battles line. All of them have been extremely popular with gamers and collectors, and despite most of them being commons, the goblins have been the highest-demand figures we've produced to date. And they're not going to last forever.
Enter the Pathfinder Battles Builder Series We Be Goblins set, a new product format from WizKids designed to help you build your goblin hordes quickly and affordably. Each display box contains 24 blind-bagged randomly assorted single-figure packs, each with its own goblin miniature. With 12 figures in the set, each display box is designed to provide a complete set—and then some! Individual packs retail for $2.49, and are scheduled for release on May 29, 2013, just in time for use with our just-announced Free RPG Day Pathfinder Module, We Be Goblins, Too!, which comes out June 15th as part of the worldwide Free RPG Day promotion.
Additional Builder Series sets are in the planning stages, and we hope to have a couple more out by the end of 2013. Folks with a Pathfinder Battles Ongoing Subscription can use their Encounter Pack discount codes on display boxes of the We Be Goblins set (they are not part of the automatic case subscription, and will need to be ordered separately).
The We Be Goblins Builder Series set contains five all-new sculpts in addition to repainted versions of seven previously released favorites, and I've got to say I think they're some of the best goblins we've seen from WizKids yet! I'll reveal two figures a week for the next few weeks, starting right now!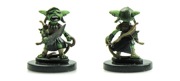 First up this week is the Goblin Warchanter, who first appeared in the Rise of the Runelords set. This warbling warrior doesn't appreciate your cruel words about the ineffectiveness of bards, and she's eager to show you the error of your ways with her nasty whip. Look out! The Goblin Warchanter has a brand new paint job, and she's looking forward to keeping your growing goblin army in line!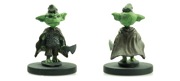 Last up today we have the almighty Poog of Zarongel, a frightening little cleric of the goblin god of dog-killing, fire, and most holy mounted combat. Poor Poog is not very good at mounted combat and he has yet to kill his first dog, but he's a very, very effective pyromaniac. His boon companion, the frog "Dogfinder," rests atop his bald pate. Poog is a player character in both the original We Be Goblins adventure and this year's exciting sequel, We Be Goblins, Too!, both written by the demented genius Richard Pett.
That's it for me this week! I hope you're all enjoying opening your new Shattered Star figures, and that you enjoy looking at and playing with your new figures as much as we enjoyed making them.
In the meantime, we've approved more than 50 sculpts for upcoming releases over the last couple of weeks, and we'll soon move beyond goblins to get into some juicy reveals from upcoming full sets!
Next week I'm out of the office for a much-needed vacation to Hawaii, but I plan to pre-load the next couple of preview blogs so you guys can enjoy goblin goodness in my absence.
Mahalo!
Erik Mona
Publisher