It's October, and as Halloween approaches it seems appropriate to focus on some of the scarier creatures in the upcoming Shattered Star set of Pathfinder Battles prepainted fantasy miniatures!
I'm technically on vacation this week, but hey, no rest for the wicked. I can't let my personal need for a couple of days off get in the way of your personal need for more cool Pathfinder Battles previews. As a wise man once said, "the needs of the many must outweigh the needs of the few."
So, on to the spoooooooookiness!
First up this week we have an absolutely disgusting menace culled from the mind of Paizo's own James L. Sutter. A while back, when James was writing the brilliant City of Strangers: A Guide to Kaer Maga, James invented an ancient subterranean race of outsiders known as the caulborn who dwell below Varisia's most unusual city. These telepathic prophets and historians feed on the psychic energy and memories of victims, which they keep in their grossly distended heads.
The third adventure of the Shattered Star Adventure Path, The Asylum Stone, written by Mr. Sutter himself, returns to Kaer Maga, so of course the caulborn make a return appearance. And in my endless quest to ply my editorial staff with 3D representations of the fruit of their own diseased minds (and 'cause you fight 'em in the adventure), I just had to add one of them to the Shattered Star set.
Here he is, a gross miniature in this grossest of months: The Caulborn!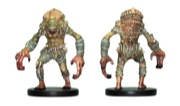 Next up we have an oldie but a goodie, a gruesome undead mastermind even TOUGHER than a regular lich! Ladies and gentlemen, I give you the dread Mesmalatu, an undead lord so powerful that even his floating skull packs a deadly punch! And watch out for those gems in his head, or your soul might end up living in one for eternity!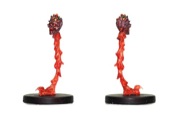 Sculpted in clear plastic, from the jet of ectoplasm holding up his head to the multicolored gems encrusting it, this guy is one of the major villains of the campaign, and one your player characters won't soon forget. Mesmalatu is among the smallest miniatures in the Shattered Star set, but he's also no doubt one of the most powerful enemies we've sculpted in plastic to date.
And that's it for today! Here's hoping I scared the socks off of you (or at least impressed you a bit with two awesome miniatures).
And with that, I slip cannily back to my vacation, to return with a big pile of treats for next Friday's blog!
Erik Mona
Publisher