On Monday the Paizo offices were visited by a praying mantis (something rare in western Washington from what I hear), so I thought I'd share the cover image for the first volume of the Reign of Winter Adventure Path.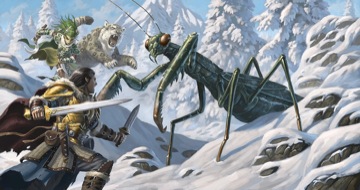 Illustration by Craig J Spearing
Some of you who were at PaizoCon, Gen Con, or read these messageboards religiously already know a thing or two about this Adventure Path. For those who don't—next year in Golarion is 4713 and that syncs up with the centennial visit from Baba Yaga where she puts a new daughter on the throne of Irrisen to rule for the next 100 years (something that's been going on for the last 1,400 years). Though her heralds have been seen riding throughout the countryside, no one has spotted Baba Yaga just yet. What exactly is the problem? What trickery has Queen Elvanna put into place?
Well, beginning this coming February you'll find out! For a taste, here are the titles to each of the adventures in the Reign of Winter Adventure Path:
The Snows of Summer
The Shackled Hut
Maiden, Mother, Crone
The Frozen Stars
Rasputin Must Die!
The Witch Queen's Revenge
We have some fun things planned for this coming Adventure Path, so I hope you'll join us on this world-spanning campaign. Also, to prepare for the journey check out Pathfinder Campaign Setting: Irrisen, Land of Eternal Winter. Don't forget your mittens!
Adam Daigle
Developer