Last night we finished up session 35 of James Jacobs's office campaign, which has morphed into an adaptation of Gary Gygax's classic fantasy Egyptian superdungeon, Necropolis. James has done a lot to make the adventure his own, including transporting it to the nation of Osirion in the Pathfinder world, and adding several devious traps and monsters not in the original adventure.
But we're still in ancient tombs and pyramids and stuff, though, so if one thing has changed, it's that we're running into a LOT more undead these days.
Which brings me to today's preview of upcoming figures from the Shattered Star set of Pathfinder Battles prepainted plastic miniatures! The set supports the brand-new Shattered Star Adventure Path, which sets the players on a quest around Varisia to reunite an ancient artifact created by the progenitor of the Runelords. It's a sort of sequel to other Varisia-based Adventure Paths, including Rise of the Runelords, Curse of the Crimson Throne, and Second Darkness, but the campaign also stands alone as a self-contained Adventure Path.
And, truth be told, it's got a fair number of undead.
Here are two of them, both ready to menace your player characters and both slated at the uncommon rarity.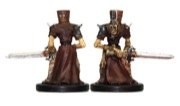 Up first is the Skeletal Champion, a figure I've wanted to create since I first saw his illustration in the Pathfinder RPG Bestiary. We later used the same illustration in the Pathfinder RPG Beginner Box, where the Skeletal Champion is one of the major antagonists provided in the set. I've long had a goal to create miniatures of every monster in that set, so when it came time to plan the Shattered Star miniatures set (and the Shattered Star Adventure Path itself), I asked James Jacobs to make sure to include a skeletal champion somewhere in the campaign. He obliged, and I finally got my miniature.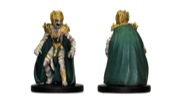 The Mummy Cleric is a similar story. Back when we were doing the Rise of the Runelords set, we almost slipped in a "Thassilonian Mummy" figure, partly because a few appeared in the Adventure Path, and partly because the Mummy in Heroes & Monsters, our first Pathfinder Battles set, looked a lot more like a rank-and-file bruiser from a Scooby Doo episode than a chilling, memorable villain.
The Thassilonian Mummy didn't make the final cut for Runelords, so when it came time to create the Shattered Star outline, I asked James if he might include more Thassilonian Mummies in the new campaign (which was, after all, set in the ruins of Thassilon). We then asked artist Tyler Walpole to draw what one of these guys might look like, and he came up with a skull-faced menace that blew our socks off.
Accordingly, this figure is now one of the tougher opponents PCs will face in the campaign. He's still Thassilonian, but he's his own villain, a nasty undead cleric of Groetus, God of the End Times. We call him (appropriately enough) the Mummy Cleric.
Good luck with this one, player characters!
That's it for this week. I have other undead I could show you, but we have a few more weeks to go before things get really spoooooky for Halloween.
I have tricks, and I have treats.
Erik Mona
Publisher