Earlier this week WizKids brought by the case incentive miniature for the upcoming Shattered Star set of prepainted Pathfinder Battles miniatures. In the previous set, Rise of the Runelords, the incentive miniature was the enormous Rune Giant, which lorded over the rest of the set and looked absolutely amazing doing it.
I can't say what the case incentive figure will be for Shattered Star yet (because I want to show you a painted sculpture for extra jaw-droppage, and we're not quite there yet), but when we got a look at it, our excitement for this set exploded to the next level, which is something I didn't even think possible (we like the Shattered Star set an awful lot).
So I can't show off that incredible miniature just yet. But I do have a couple of other incredible figures this week to make up for it!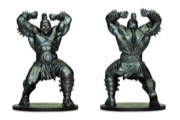 Up first this week is the Iron Golem. This Large figure is based on a great illustration by Tyler Walpole that I think captures a classic look for this iconic dungeon monster. The paint job on this guy is relatively simple, but WizKids has made subtle choices that make the simplicity work for it. The color of the creature's "iron" skin has a sheen to it that really sells the metal effect, similar to the way the Karzoug Statue in Rise of the Runelords really looked like it could have been made of stone. Even better, the Iron Golem's eyes and mouth are painted in a sort of pearlescent orange, giving the effect of smoldering fire within the sockets. WizKids brought by a production sample of this figure at this week's meeting, and everyone commented on how much they liked it. I think you'll like it too.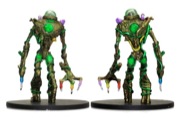 The Alchemical Golem from Bestiary 2 is one of my favorite golems in the game, so it's fitting that the Alchemical Golem from the Shattered Star set is one of my favorite prepainted plastic miniatures in any set. This Large miniature is SERIOUSLY cool.
I count FIVE different colors of clear plastic on this figure, from the green goo that fuels its body to the varicolored potions in its syringe fingers. Best of all (and not really visible in this preview photo, alas), the clear dome of the Alchemical Golem's head actually contains a little brain! Gross!
Expect preorder pages for the Shattered Star set to appear very shortly here on paizo.com, and it's not too early to ask your local retailer to make sure they order enough copies of this set from their distributor.
It's going to be a great one!
More next week.
Erik Mona
Publisher