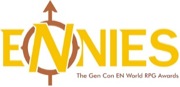 Paizo is proud to be nominated for SEVEN awards at the upcoming annual Gen Con/EN World ENnie Awards!
Nominated products were selected by an expert panel of judges affiliated with the great gaming community over on ENWorld.org, but the overall winners in each category will be determined by popular vote.
THAT'S WHERE YOU COME IN!
Voting closes THIS SUNDAY, so if you haven't yet had a chance to vote for your favorite products, please jump over to the Official ENnies Voting Booth to choose your favorites. While the awards boast a host of awesome nominees from several gaming companies, we hope you'll pay particular attention to this year's Paizo nominations:
Best Aid/Accessory
GameMastery Chase Cards
Best Art, Cover
Pathfinder Roleplaying Game Beginner Box (Wayne Reynolds)
Best Cartography
Pathfinder Campaign Setting: Jade Regent Poster Map Folio
Best Free Product
Pathfinder Module: We Be Goblins!
Best Miniatures Product
Pathfinder Battles: Heroes & Monsters
Best Production Values
Pathfinder Roleplaying Game Beginner Box
Product of the Year
Pathfinder RPG Beginner Box
Please VOTE BY THIS SUNDAY to show your support for Paizo and the Pathfinder RPG!
Thanks!
Erik Mona
Publisher