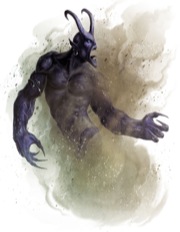 Snagged from the Vault: Pathfinder Adventure Path #23: "The Impossible Eye"

Wednesday, April 22, 2009

Fortune favors the bold, dear readers, and today the Preview Purloiners were brave (or foolish) enough to fetch a piece of art from the penultimate chapter of the Legacy of Fire, Pathfinder Adventure Path volume #23: "The Impossible Eye." Illustrated here by Jason Engle is the black jinn, a spiteful being of elemental fury; these creatures will harm mortals if they can.

Vadid and Nahk
Preview Purloiners

Thought by many, even among the jann, to be myths and dark legends, the black jinn are an accursed and forgotten tribe of genies. Bearers of ill will and bringers of destruction upon both mortals and their own kind, these living ill omens are hateful creatures possessed by madness and a drive to call down ruin upon any who intrude upon their desolate sanctums. The few black jinn encountered on the Material Plane are thought of as terrors of the deep desert, arriving in sudden sandstorms, brilliant with electrical fury, and disappearing just as quickly to leave behind no trace of lost comrades or merely corpses, charred or glazed in molten glass. Largely, black jinn are creatures of myth and legend, but a handful of mortals know the terrible truth which few live long enough to tell.