Diary of a T20 GM
By Johnny Wilson
When I first placed my hands on the new T20 version of Traveller, I couldn't wait to start playing. I didn't have a free night to start a new gaming group, so I contacted my youngest brother via email and asked him if he'd like to try a new version of Traveller. Since Doug had been a member of my Classic Traveller campaign that lasted over 5 years, he readily jumped at the opportunity to play via email.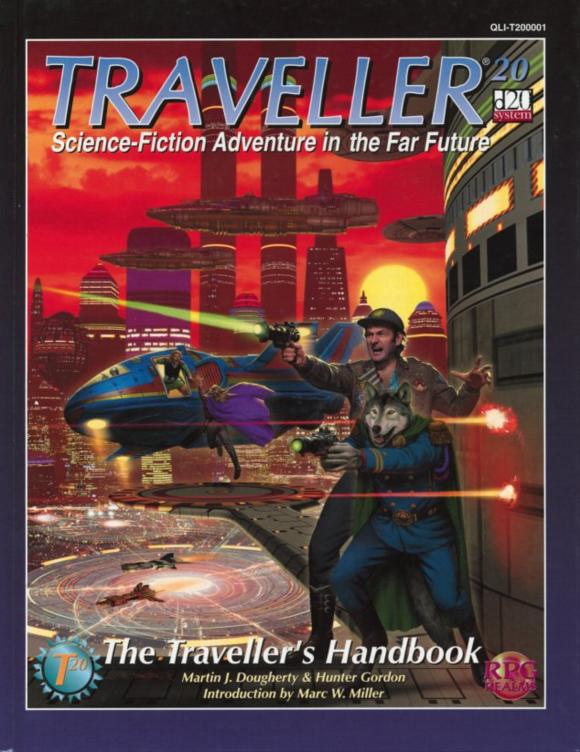 Since I was the only one who had the book, I rolled up the characters and sent a synopsis of them to him. Unfortunately, I was so convinced that I would intuitively understand the rules based on my previous experience with the classic game that I often skimmed over some of the rules. My most flagrant error occurred when I was using the Prior History rules in creating my characters. I looked at the Survival tables in the Prior History classes and immediately decided that, as in Classic Traveller, anyone who didn't beat the Difficulty Check of the Survival role for each assignment would die. As it turns out, I noticed in the rules that if a character only rolled EQUAL to the DC that the character would roll on the Survival Mishaps table (where you don't actually die), but I had the hubris to assume that anything under that caused you to die. That's how my nostalgic mentality wanted it to read and that's what I did when creating my characters. It was in error, but it isn't the first time my personal prejudice has managed to override the actual rules until someone forced me to re-read them. Even though I was wrong, I'm a wicked enough GM that I think I'll keep my erroneous interpretation as a house rule.
I created a Sydite mercenary named Srat Sakrat in honor of the multi-limbed green martians in Edgar Rice Burrough's Barsoom and managed to herd him through three levels of Army before mustering him out. Srat hails from Khuur and that meant that I could work with his homeworld's UPP (Universal Planetary Profile) of E959977-5. Using such shorthand should sound familiar to Traveller players, as it indicates: a starport (E) that consists of some flat bedrock and no fuel or facilities, a planet 14,400 km in diameter with average (1.125g) gravity, a thin (rated 5) atmosphere, hydrographic coverage of 90% surface liquid (9), a population with billions of inhabitants (9), a balkanized governmental structure (7), a law level that prohibits shotguns and higher, and a tech level (5) equivalent to 1900-1939 CE.
The other character was named Iirvan Vrawsh, a former officer who went through 7 terms in the Imperial Navy and wanted to pilot his own ship. Vrawsh is of Vargr descent, those marvelous canine furries that have been with us since the earliest days of the Journal of the Traveller's Aid Society. Since they were both mercenaries, I postulated to my brother that these guys had just come out of a minor border war and had landed upon the old Traveller planet of Regina (A788899-A). I wanted to get going quickly, so I grabbed an old classic adventure called The Imperial Fringer, one designed as an introductory adventure and one I'd never actually run before.
I was shocked to discover that the adventure began with the old canard of a brawl in the Starhaven Tavern on Regina. Fortunately, however, I was able to grab some pre-rolled classic characters from my Citizens of the Imperium book and adjust their stats from the 2d6 to the d20 system. I used simple percentages in comparing the 12 point and 18 point systems used to create the characters. A 2 in the old book = 2, 3 = 4, 4= 5-6, 5=7-8, 6=9, 7=10, 8=11-12, 9=13-14, 10=15, 11=16-17 and a 12=18. If I were taking more time to convert an old adventure, I would line these up on the basis of attribute modifiers, but I figured that the percentage calculation made a quick and dirty conversion ratio.
The potential patron joined the two PCs in the fracas and helped one of them get away before the authorities arrived to break up the fight and arrest the PC who had used a weapon beyond the appropriate law level. Suddenly, I was able to explain the Bribery rules from the T20 Traveller to my brother and let him decide how much to offer the investigating officer. It was a suspenseful roll of the dice, but the character had offered enough credits to create just enough positive modifiers that he was successful. I liked the flavor of this and moved forward with the adventure.
In the original adventure, the patron offers the PCs a scout ship to use in surveying the Spinward Marches (a great way to become familiar with one of the most frequently used sectors in the classic campaign). I thought this would be fun, but I wanted the patron to assign them to a merchant ship. Further, I wanted to design that free merchant in order to test the design rules. I did test these rules and the Starship Hispano, at a massive cost of nearly one-half billion credits, was born. I passed along the following spreadsheet to my brother and we prepared to head into the Spinward Marches.
Sketches of Standard Designs in the new T20 Traveller Handbook
Component

Subcomponents

Cost

Tonnage

Tech
Lvl

Cumulative
Cost

Remaining
Tonnage

Cone Shaped 1,000 ton hull

110,000,000

1,000

Fully streamlined with

Bridge

20

110,000,000

980

Airframe Control (+10% cost)

Airframe control+streamlining

110,000

50

110,110,000

930

Model 4 Computer

w/ avionics, fiber optic back-up

32,000,000

8

142,110,000

922

20 Jump-4 Drive Units

plus 20 tons of fuel each

200,000,000

450

342,110,000

472

20 Maneuver Drive Units

35,000,000

60

377,110,000

412

Fusion Power Plant

with 1 ton of fuel each

60,000,000

40

15

437,110,000

372

Fuel Purification Plant

30,000

3

15

437,140,000

369

Fuel Scoop

1,000,000

0

438,140,000

369

Armor

USP 2

63,000

90

10

438,203,000

279

Hardpoint for Plasma Gun

1,500,000

2

11

439,703,000

277

Hardpoint for Triple Turret

two missile racks, one sandcaster

1,750,000

3

8

441,453,000

274

Maintenance Shop

2,000,000

10

443,453,000

264

Command Staterooms

four cabins

2,000,000

16

445,453,000

248

Crew Standard Staterooms

two cabins

1,000,000

8

446,453,000

240

Passenger Staterooms

four cabins

2,000,000

16

448,453,000

224

Passenger Cabins

four cabins

1,000,000

8

449,453,000

216

Low Berths

six berths

300,000

3

449,753,000

213

Extra Airlock

5

6

449,753,005

207

Freshers

six separate facilities

12,000

449,765,005

207

Cargo Area

207
Yet, before we took off, I wondered how much more difficult this detailed design work was than the work in
Starships of the Galaxy
for the
Star Wars® Roleplaying Game.
I tried to build a similar ship and found that it could be designed much faster and with a much lower total cost. The design process in T20 was more entertaining, but if I needed to build a ship in a hurry, I would prefer
Starships.
Nonetheless, for comparison's sake, here is my worksheet for the
Star Wars
version of the
Starship Hispano.
---
©2002-2017 Paizo Inc.® | Privacy Policy | Contact Us
Need help? Email customer.service@paizo.com or call 425-250-0800 during our business hours, Monday through Friday, 10:00 AM to 5:00 PM Pacific time.
Paizo Inc., Paizo, the Paizo golem logo, Pathfinder, the Pathfinder logo, Pathfinder Society, Starfinder, the Starfinder logo, GameMastery, and Planet Stories are registered trademarks of Paizo Inc. The Pathfinder Roleplaying Game, Pathfinder Campaign Setting, Pathfinder Adventure Path, Pathfinder Adventure Card Game, Pathfinder Player Companion, Pathfinder Modules, Pathfinder Tales, Pathfinder Battles, Pathfinder Legends, Pathfinder Online, Starfinder Adventure Path, PaizoCon, RPG Superstar, The Golem's Got It, Titanic Games, the Titanic logo, and the Planet Stories planet logo are trademarks of Paizo Inc. Dungeons & Dragons, Dragon, Dungeon, and Polyhedron are registered trademarks of Wizards of the Coast, Inc., a subsidiary of Hasbro, Inc., and have been used by Paizo Inc. under license. Most product names are trademarks owned or used under license by the companies that publish those products; use of such names without mention of trademark status should not be construed as a challenge to such status.