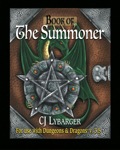 Our Price: $9.99
Add to Cart
Book of the Summoner (OGL) PDF
Thor's Gate






(based on

1

rating)
An easy reference book for all things summoning in the world of D&D 3.5. You will find revised and expanded summoning tables, a slew of new summoning feats, new spells, new races, new monsters, and a set of quick-reference creatures ready for summoning. We hope you'll enjoy it as you continue...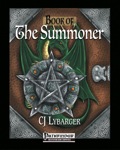 Our Price: $9.99
Add to Cart
Book of the Summoner (PFRPG) PDF
Thor's Gate






(based on

2

ratings)
A source book for Summoning in the Pathfinder Roleplaying Game. Expanded summoning tables, new summoning feats and spells, along with existing feats and spells with a direct connection to summoning. New races, new monsters, and quick-reference sheets for creatures and eidolons ready to print and...