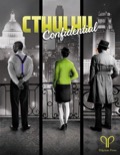 List Price: $44.95
Our Price: $40.46
Add to Cart
Gumshoe RPG: Cthulhu Confidential
Pelgrane Press

Face Madness and Corruption... Alone! A one-on-one, roleplaying game experience designed for a single player and game master, Cthulhu Confidential drops your hero into the noir nightscape of hardboiled-era Los Angeles, New York, or Washington, DC. Meet power brokers and politicians, rub shoulders...

List Price: $19.95
Our Price: $17.96
Add to Cart
TimeWatch RPG: Game Master's Screen and Resource Book
Pelgrane Press

Protect the secrets of the future, present, and past until the time comes to reveal them with the TimeWatch GM Screen and Resource Book! This handy accessory features essential information and tables a GM needs to run a TimeWatch campaign, and comes with a Resource Book packed with advice,...