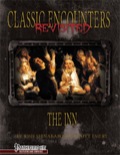 Our Price: $3.00
Add to Cart
Classic Encounters Revisited: The Inn (PFRPG) PDF
Wolf and Raven Games






(based on

2

ratings)
Alehouses, inns, barrooms, saloons, pubs, taprooms, bars, roadhouses, taverns... ... Every world has its watering holes; the places where everyone knows your name, or at least one of them. These are the places where characters plot their rebellions, conquests and adventures. ... In some...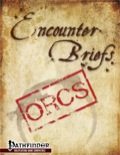 Our Price: $2.00
Add to Cart
Encounter Briefs: Orcs (PFRPG) PDF
Wolf and Raven Games

Wandering or random encounters are often given short-shrift—thrown together haphazardly with very little to no preparation, other than finding an entry in a list of monsters, rolling dice to see how many show up and then playing out a boring, non-immersive exchange. ... Encounter Briefs are...