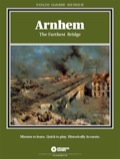 List Price: $19.95
Our Price: $17.96
Add to Cart
Folio Series: Arnhem
Decision Games

In September 1944, Operation Market Garden was intended to open a direct path for the Allied armies to circumvent the West Wall and threaten Germany's industrial Ruhr heartland. British, American and Polish airborne forces were ordered to assault and capture key bridges along the main highway...

List Price: $50.00
Our Price: $45.00
Add to Cart
Struggle for the Galactic Empire
Decision Games

In the far future, Earth is a distant myth. When mankind gained the means to transit the vastness of space safely and quickly, a great human wave extended across the galaxy, and humans soon inhabited thousands of worlds. ... Communities of worlds formed alliances; alliances became federations,...