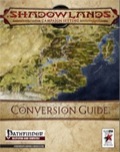 Our Price: FREE
Add to Cart
Shadowlands Conversion Guide (PFRPG) PDF
BlackStar Studios






(based on

1

rating)
Enter an enormous, ancient fantasy gaming world as rigorously realistic as ours, replete with dark, gritty, manipulative personalities and cultures—a place where racial and religious tensions are as real as any! In the Shadowlands, players will interface with ancient technologies, navigate...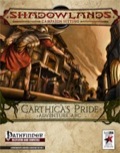 Our Price: FREE
Add to Cart
Shadowlands: Carthica's Price Adventure Arc (PFRPG) PDF
BlackStar Studios






(based on

3

ratings)
What happens when a pair of lackluster thieves with a fondness for intoxicants, courtesans, and easy coin leaves one of Tarina's betters in the gutter? A game of vengeance and intrigue happens, that's what! ... Carthica's Pride is a mini-adventure set in the port city of Tarina that invites the...