Our Price: $16.99
Discontinued
Last Rites of the Black Guard (Savage Worlds)
12 to Midnight

When a single mother claims that her family is being plagued by a terrifying haunting, only you answer her plea for help. But before you can put a stop to the ghosts, you'll have to investigate their origins by spending an evening in the house yourselves... if you dare. ... Last Rites is a modern...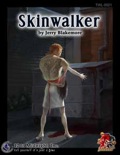 List Price: $12.99
Our Price: $11.69
Add to Cart
Skinwalker (Savage Worlds)
12 to Midnight

Most folks around Pinebox, Texas are excited that the Green Mark Corporation is moving in. With the timber company comes jobs—jobs that are most welcome in this rural community. But not everyone is happy. When Green Mark employees start turning up dead, the small community acts shocked... at...
Our Price: $11.99
Discontinued
Buried Tales: Pinebox Texas
12 to Midnight






(based on

1

rating)
Welcome to Pinebox, a sleepy little East Texas town with more than its share of trouble. Whether it's the snake cultists running the local bar or vengeful spirits haunting the high school boys locker room, there always seems to be some sort of trouble brewing just below the surface. Join us for a...