For this installment of the Pathfinder Adventure Card Game blog, game designer Mike Selinker and developer Gaby Weidling stake out positions on whether it's better to be brash or cautious in the game. We join them in mid-session.
Gaby: My turn! Smashy smashy!
Mike: Hold on there, buckaroo. I know you want to break everything in sight, Valeros. Let me tell you why that's not always a good idea.
Gaby: No, let me. Less thinking, more doing. You get to jump right into the action, and you don't spend all your time talking like you do in an RPG. Instead, you just wade right in because you're Valeros, and you smash whatever you find. You've loaded up on cards that make you nearly invincible, so why waste your time acting like you're… um, vincible?
Mike: And then you run into an Explosive Runes and your hand is in the discard pile.
Gaby: There's like two Explosive Runes in the whole game! And so I lose four cards? Baw-baw-baw. I'm Valeros. And I've got some wimpy-ass healer who can put those cards back in my deck whenever I want.
Mike: No, whenever she wants. Saving your bacon is going to cost Kyra a turn. She has to burn an exploration to heal you.
Gaby: I'm the only thing standing between her and disaster. "There's a big scary thing over at the Old Mill, and oh no, I looked ahead and there's another one in the Woods!" Who's gonna go beat that up? They're not calling Ghostbusters. It's always Valeros.
Mike: Kyra can bristle up with monster-killing cards just like Valeros can. She's just smarter if she doesn't. OK, let me ask you another thing. What happens when you blast through the door and find a Wand of Shield? It's just gonna go in the garbage, because you're not smart enough to acquire it.
Gaby: I don't need no sticks!
Mike: I think I win that argument. You're on the side of the party, right? You want Kyra's turns to be effective, and you just made her worse by not knowing there was something she wanted.
Gaby: I'm on the side of the party if the party is on the side of winning.
Mike: Sigh. Let me see if I can explain a simple concept called opportunity cost to you. Let's say you take one of those item slots and put a Spyglass in there. Spyglass says, "Discard this card to examine the top 2 cards of your location deck and put them back in any order." Then, when you find the monster and the wand, you can crush the monster and leave the wand for the spellcaster.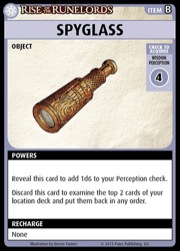 Gaby: Let me explain opportunity cost to you. You're wasting a slot that could be used for an active item and replacing it with a passive item. What good's knowing what's there if you can't beat it when you find it?
Mike: It doesn't always have to be passive. Consider Ilsoari Gandethus, who—
Gaby: Yes, let's!
Mike: —is an ally with the text, "During your turn, reveal this card and put it on top of your deck to examine the top card of your location deck; if it's a monster, you may shuffle that monster back into the location deck." Even you'd admit there are monsters you'd prefer to shuffle back into the deck when you find them.
Gaby: Read the rest of the card.
Mike: I'm not sure that's—
Gaby: "After you play this card, roll 1d12; on a 1, summon and encounter the villain The Sandpoint Devil." Remember the time Paul Peterson was so careful about what he was doing that he summoned The Sandpoint Devil three times. Valeros is all about fighting the monsters that are there, but not about making extra ones.
Mike: To be fair, Paul did live through that. Barely. But okay, I admit you have a point.
Gaby: Yeah, you also have a point. Sometimes you need to know where the villain or a henchman is, and flailing about blindly isn't always the best way. It's not always about the smashing. It's often about knowing when to smash.
Mike: And who needs to be smashed. So we can agree we're both right.
Gaby: Finally. Can I take my turn now?