It's been raining cats and dogs here in Seattle lately, so I decided to take that as inspiration for this week's preview. And since I don't have a great photo of the set's two awesome canine figures yet, I'm substituting a frog-like thing instead to preserve the delicate rhyme structure of my pun.
I speak, of course, of the Boggard!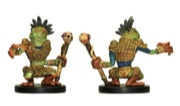 Boggards have been with Pathfinder for a long time, and finally get their due in a major way as antagonists in the second and third volumes of the Shattered Star Adventure Path. Because we put this set together well before the Shattered Star campaign was written, we actually used a piece of art from an early boggard appearance in the Kingmaker Adventure Path, but we liked him so much we figured he could play double duty for the Shattered Star miniatures set. He's a common, so you'll soon have plenty of Boggards in your collection to menace the swamps of your campaign world.
And since no frog is complete without its cat (did I just make that up?), here's a look at the next cool miniature in the set, the Catfolk Rogue!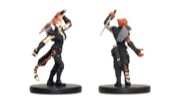 This lithe cat-burglar feautres in The Asylum Stone, by Paizo's own James L. Sutter. The adventure takes place in Kaer Maga, Varisia's very own wretched hive of scum and villainy, where weird creatures rub shoulders with elves, humans, and worse. Catfolk, which we first introduced in Bestiary 2 to much popular acclaim, seemed like a natural fit for that environment, and here she is, ready to pounce into your miniatures collection. The Catfolk Rogue is an uncommon figure.
Both of these animalistic figures have amazing paint details for their rarities. The Boggard is easily among the very best commons we've yet produced (if not the very best common) in both sculpting detail and paint application, and the Catfolk Rogue features tons of paint steps like fur stripes, skin gradient, and amazing eyes that elevate her to more than just a cat-headed lady.
We've now approved every figure in the set, and we're well on our way to the Shattered Star set's scheduled January release!
See you next week!
Erik Mona
Publisher